15 August 2022
Here, Mackays Hotel invites you to explore the tantalising flavours of traditional Highland food. So if you're curious to see which snacks keep us northerners fighting fit, here's our food tour of the Highlands. Why not try some of these dishes on your next visit to Scotland?
Haggis
So good that our beloved poet Robbie Burns had to pay tribute to it. Haggis has long since been a meal worth saving for the most special of celebrations. Traditionally served with the infamous 'neeps and tatties', you can find this delicacy across the Highlands' local butchers or deep fried in your local chippy!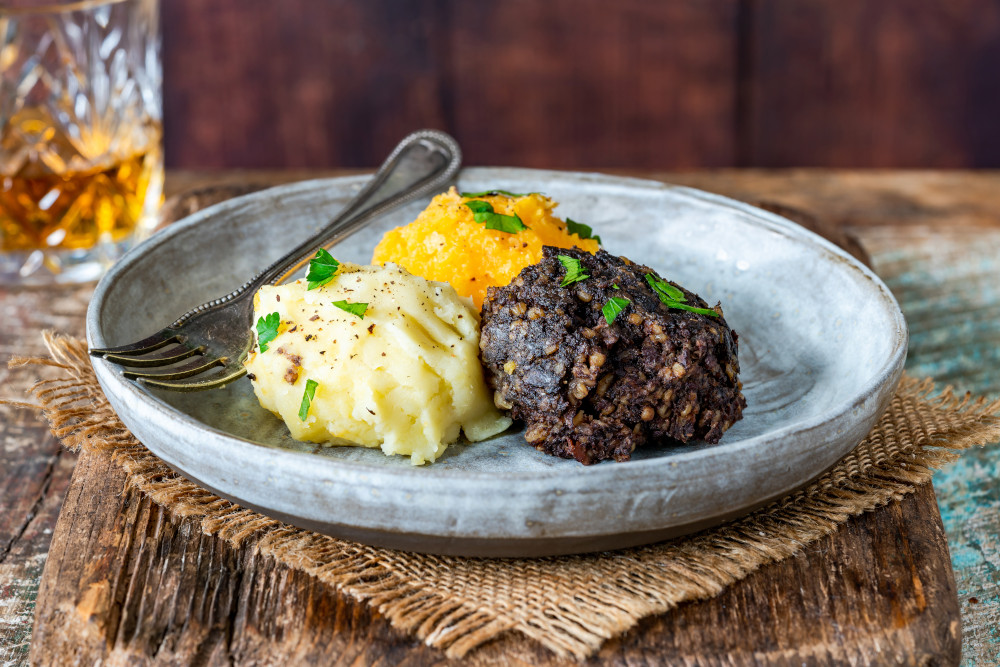 Salmon
You may have discovered that when venturing into any high-end supermarket or restaurant, Scottish salmon is almost guaranteed to be featured. Why? Well, because it is (arguably) the best. Celebrated globally for its perfect taste and texture, Scotland is a prime breeding ground for salmon. Be sure to sample the greatness of our sea food while in the heart of Scotland!
Oatcakes
Trusty and sturdy, this savoury biscuit has long been known as the best accompaniment to a fine cheese. Speaking of which, Scotland is home to some of the greatest cheeses too. If you yearn for a traditional flavour, the Caboc is one of Scotland's oldest cheeses, providing a smooth taste.
Shortbread
For those that love to indulge their sweet tooth, Highland food can deliver on this front too. Scotland is known for creating the most delicious shortbread. Buttery, crumbly and delicious, if there is ever a reason to treat yourself, then Scottish shortbread is it!
Tablet
Another sweet treat here in Scotland is tablet. It's a bit like fudge, but more crumbly and harder in texture. Tablet is relatively easy to make, all you need is condensed milk, butter, sugar and butter, boiled together and left to harden. Rather unsurprisingly it is often flavoured with whisky, after all, it is a Scottish creation!
Porridge
Whether it's Scott's Porridge Oats from the box or while dining out, nothing quite beats the hearty taste of traditional Scottish porridge. Unlike some popular trends, it is made with salt, not sugar. If you can pick it up with your hands, don't be alarmed! That's how it's supposed to look. Start your day the Scottish way with our long treasured porridge.
Cullen Skink
The weather isn't always great up here in Scotland, which means that we need to find ways to warm ourselves up. Cullen Skink is just such as way. A smoked fish soup, it is packed full of leeks and potatoes for a truly amazing flavour! We highly recommend trying this in our bistro with a warm piece of bread. Our guests often say it's the best they've tasted!
Cranachan
This is Scotland's answer to Eton Mess. A delicious dessert made with toasted oats, cream, honey, raspberries, and of course a nip of whisky. As the 'the uncontested king of Scottish dessert', this is a perfect way to finish off a special meal in Scotland.
A full Scottish
Now, this is one meal that must be sampled while in the Highlands. Similar to a full English Breakfast, the Scottish counterpart provides the spice you've been needing in your life. With the additions of haggis, black pudding and tattie scones, you can expect to leave the table feeling full and content.
So what are you waiting for? Kill two birds with one stone by travelling to the far north of Scotland, while fulfilling your culinary desires. If you prefer a short journey rather than a national tour, you will find many of these delicacies in Mackays' very own No.1 Bistro! Enjoy traditional Highland food favourites in style with our Rosette award-winning selection of Highland fayre.
Book Now
You may also be interested in...