Indulge yourself on a Scottish break at Mackays Hotel
Between October and March get a 3-course dinner, B&B, and glass of bubbly on arrival for only £90 per person.
One of the most fun and exciting things about visiting us here in the Highlands of Scotland is the amount of delicious food and drink produced nearby. We're lucky that we are so close to the sea and in a land renowned for its breweries and distilleries. So if you are planning a visit to Wick and would like to join us in eating and drinking delicious local produce, then book today. In addition to our indulgent dinner, bed and breakfast offer ensure you get the tastiest food, you'll also be warmly greeted with a glass of bubbly upon arrival too!
Book for 2023
Book for 2024
Included in this offer:
Bed & Breakfast

Welcome glass of bubbly upon arrival

3-course dinner at No. 1 Bistro
Enjoy a welcome drink
Not only do you get local produce with your dinner, bed and breakfast deal, you get a welcome drink too!
Our offer is perfect for those who come to the Scottish Highlands and want to experience the best food available here. Whether it's locally grown, made or caught, we offer the best seasonal produce. Upon arrival, we'll also greet you with a glass of bubbly to kick your stay off.
Delicious Dining
That night, enjoy a 3-course dinner here at our in-house restaurant, No. 1 Bistro. Here you will be treated to delicious food created from locally sourced ingredients. So what you will have depends on what Highland food is in season at the time. Whatever it is, we guarantee it will be delicious!
Reviews...
Whenever we are up here, there's only one hotel that we stay in! Murray, and his team, always make every guest feel so at home. The rooms are cosy, hotel well situated, by the river, and the restaurant and bar are fab. Excellent food and a great selection of drinks. Even with the covid restrictions, our stay was still lovely and we will definitely be back!
See more >
A tasty deal at Mackays Hotel...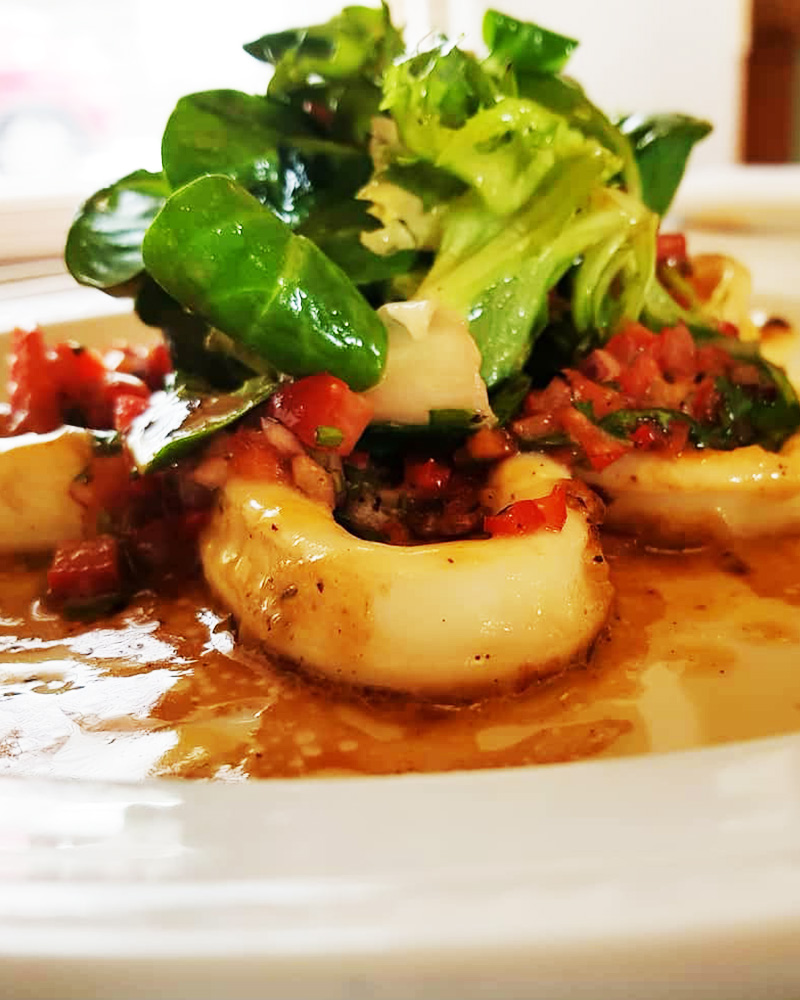 And all for only £90 per person!
All of this for only £90 per person. This is a great way to explore Wick and Caithness, and tasting the great produce of the region. Foodie breaks are popular with a wide range of people who enjoy the best food and drink. So book your stay today to begin your journey! We'll make sure only the finest and freshest food in Scotland ends up on your plate. In the past, menus have included smoked venison, stuffed duck leg and tangy cheesecake as well as much more. If you're looking to taste Scotland, then Mackays is the place to be.
Our producers
We have worked hand in hand with Scottish producers for years to provide the freshest produce and all is to be sampled in this dinner bed and breakfast offer!
For many years, we've worked with a range of food and drink producers from all over Scotland. Most are hyper-local, like Scrabster Seafood. Just half an hour's drive away, we can be sure that the seafood delivered to us was swimming in the North Sea just twelve hours earlier. We're also nearby Wolfburn Distillery – the most northerly distillery on mainland UK. You can taste the care and attention they take with each cask in every dram. And for our meat, we use Harrold Brothers Butchers as one of our suppliers. Their local meat is always delicious. Much of their beef range is sourced from the Mey Selection brand, originating from Prince Charles and the Castle of Mey. So you can be sure you are getting a tasty steak every time!
Book Now
So get booking this indulgent deal today and come and join us at Mackays Hotel!
If you would like to take advantage of this special offer then book today.
Terms and conditions apply. Offer is subject to availability. Book for stays between the 1st October and the 31st March. From £90 per person (£179 in total) based on two adults sharing a room. Includes a 3 course Dinner B&B + glass of bubbly on arrival.
Explore more offers below…