Looking for restaurants in Wick?
Our restaurant at Mackays hotel offers tantalising culinary delights and is waiting for you to sample them...
If you are looking for restaurants in Wick that offer fine dining and good company, then look no further than Mackays Hotel. Our in-house restaurant, No.1 Bistro, prides itself on a talented kitchen team who take a healthy helping of Highland fayre, add a dash of locally grown vegetables, a sprinkling of care, a pinch of pure creativity infused with love, to bring you a tasty, mouth-watering menu which offers something for everyone. We're a Highland restaurant that cares deeply about where our ingredients come from. Whether it's a romantic dinner à deux, a special occasion, or a chance to meet up with old friends, we've got the perfect setting and the most delicious food to help you make it a memorable night. And we're an ideal stop if you are travelling along the North Coast 500. So if you're looking for restaurants in Caithness in which to have a lovely evening, then book your night with us.
According to the Guinness World Records, our No. 1 Bistro sits on the world's smallest street. But don't worry – we've got a big menu and plenty of room for everyone inside! It doesn't matter if you're on your own, in a couple or coming with the whole clan, you'll be most welcome here at Mackays.
Book A Table
Dinner at Mackays
We've got a great range of delish dishes that will suit every taste and requirement. Choose from three courses (or two or one, whatever suits) from our tasty-sounding menu. For example, you could start with a smoked fish platter with baked apples and fig emulsion, before going onto a main of pan-fried pork tenderloin with crispy onions, black pudding, creamy potatoes & beetroot whisky sauce. And seeing as you've got this far, finish off with a glorious salted caramel baked cheesecake with creme fraiche sorbet.
Reviews...
Really enjoyed my stay at Mackays Hotel, all the staff are very friendly and welcoming. Quality of food and service great with a good selection to choose from Room was a decent size and modern. Will be back again during my next visit
See more >
We are pretty special...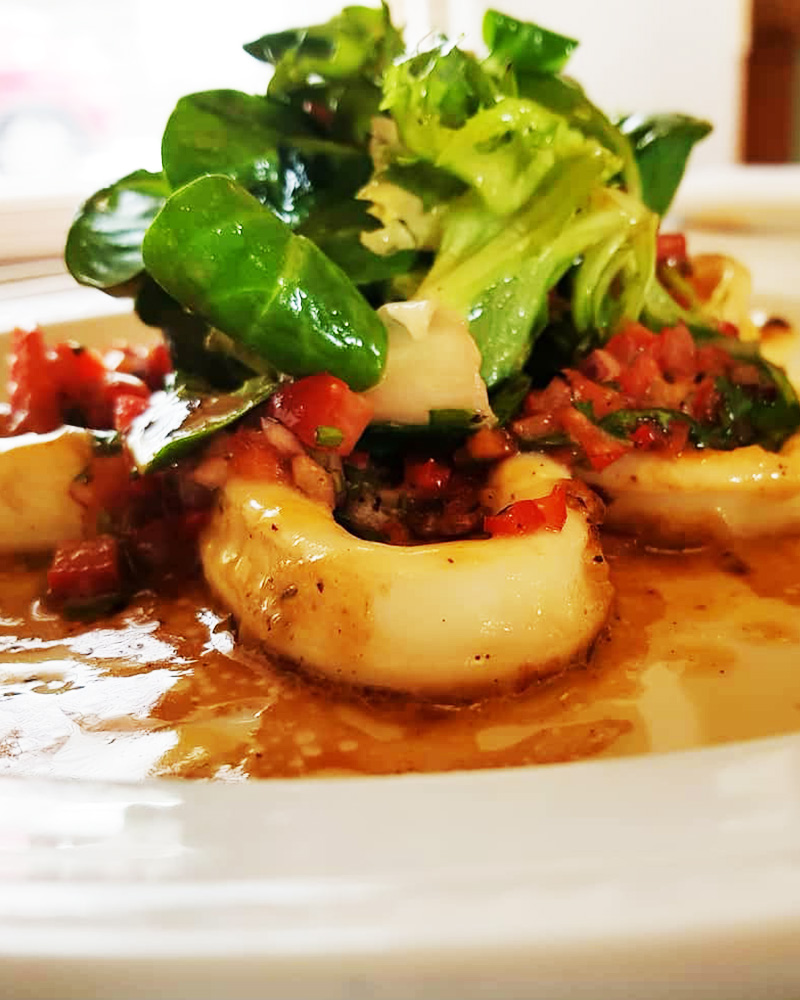 Our Wick restaurants Specials
Whilst all our meals are special in their own way, our specials take things just that little bit further. For example, we don't offer just one single burger in a bun (pah!). We want you to enjoy a double-decker of 2 8oz beef patties topped with Monterey jack cheese and bacon, with coleslaw and spiced wedges. And we don't just want you to have fish and chips. Please enjoy our Scrabster landed, beer-battered haddock with hand-cut chips and buttered peas. Whatever level of hunger you are on when dinnertime comes, we've got you covered.
Don't Forget a Drink
Not only do we have one of the best restaurants in Wick we have one of the best bars too...
What complements a fine meal? Well, a fine wine of course! And we have a wide selection of wines to suit every dish and palate. Our staff will be happy to help you select the best wine for your meal. But don't stop there – we're got a brilliant selection of whiskies too. Last we counted there were over 500! Having a wee nip after eating can ease you into a lovely relaxed evening. Take a seat at the bar if you'd like to try a few – you can get a taste of Scotland without having to walk one step. We stock brands like Old Puteney, Wolfburn and Glenfiddich 12-year-old. Or, if gin is your thing, have a tipple of Broch Rose Gin from local Caithness distillers at Dunnet Bay. Just because you've finished your meal, it doesn't mean you've finished your evening.
Book A Table
So book your fabulous evening in one of the best restaurants in Wick today!
To ensure a table, we recommend you get in touch with us to book. Let us know if you have any intolerances or dietary requirements and we'll do our very best to accommodate you. So stop looking for restaurants in Wick and start getting in touch with us. We look forward to seeing you here at Mackays!