Our Family Rooms
Book a stay in one of our family rooms
Wick holidays are popular with visitors coming from around the world. With our fresh sea air, gorgeous Highland setting and friendly community, who can blame them! It's a particularly great place to come with your family, as we have many child-friendly attractions close by. We are a family-friendly hotel in the north of Scotland and we are warm, comfortable and filled with beds! Complete relaxation is what you'll come to expect from Mackays Hotel's Family Rooms, of which we have two choices…
Book Now
Wick holidays - a room with Peace & Quiet
This room offers a double bed, single bed and sofa bed. It is discreetly tucked away on the 3rd floor for a little bit of peace and quiet. This is ideal if you or the kids are light sleepers or just want to get away from it all for a few days. Here you can all enjoy a relaxing sleep ready to start the next day's exploration of the local area after a hearty breakfast!
Three's a Crowd - in our cosy corner room
A great room to take in the wonders of Wick with all the mod cons...
This corner room offers three single beds (Or a Kingsize Double + 1 single bed). It overlooks three local streets, including Ebenezer Place, the shortest street in the world! This is super for people watching and feeling like you are in the heart of Wick. Like walking into a breath of fresh Highland air, you can relax into your stay. And you will be surrounded by all the mod cons. So if you're looking for a Wick hotel that takes care of everyone from the smallest baby to the elder of the group, Mackays is the place for you!
Reviews...
On a 14-day NC500 trip staying in 10 different hotels, this one stood out food wise as the best, including over some more expensive accommodation. We had a DBB rate. Usually hotels only provide a table d'hote menu if dinner is included but McKays allowed us full range of the menu. Our dinner was perfect even without a glass of wine to go with our steaks due to covid regs in Scotland. The breakfast was also the best on our trip. Top marks to the kitchen staff. I gather the hotel is family run over a couple of generations and it shows. Friendly, attentive staff at reception and restaurant. Warm and welcoming.
See more >
Sample our culinary delights...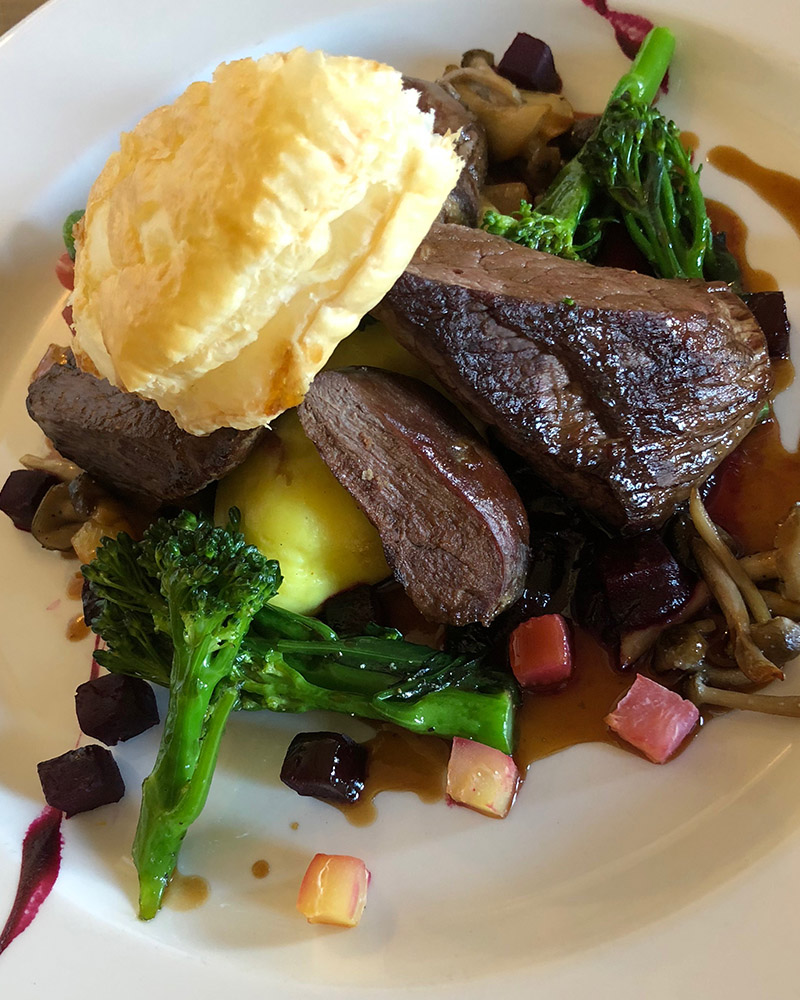 Delicious dining at No1 Bistro
Our in-house restaurant, No. 1 Bistro, is also child friendly and we serve a wonderful range of lunches and light bites. And for the extra-special family treat, join us every week for our delicious Sunday lunch. Using fresh local ingredients our menu certainly delights those who sample it. So come along and enjoy a family meal with us!
Exploring Wick on your holidays
With so much to see and do it is how do you fit it all in? Maybe stay a little longer?
After a comfortable sleep in our Family Room, we can wake you up with an alarm call so you can start exploring Caithness. With endless beaches, castles to explore and friends to meet, it is a great place to stay for families with children.
Some particular highlights that the whole family can enjoy include the Wick Heritage Centre, where you can find out about the history of the town and some of the special areas nearby. If you wanted to see the coast from a different perspective, join Caithness Seacoast for a journey out on the water. Here you can keep an eye out for castles, stunning geology and one of our favourite birds – the puffin.
And to help you get around the local area, our team have written an insider's guide for the adventurous amongst you. Well, we've always thought the best way to really find out about anywhere is to ask the locals!
Book your stay today
What are you waiting for? Book today and look forward to a wonderful family-friendly getaway at our hotel!
Of all Caithness hotels, ours is the only one on the shortest street in the world! If you would like to see this Guinness World Record for yourself, then book today! Our family rooms are popular options for visitors, so make sure you get in touch as soon as possible to reserve your stay.