John O'Groats Trail
Experience the rugged, beautiful wilderness of the Scottish highlands
If you want to discover the real Scotland with its untamed seas, expansive views and unique wildlife, then walking from John O'Groats on the north coast down to Inverness is worth considering. This is a new walk, and one which is increasing in popularity. On your own or as part of a group, it is sure to become an iconic path, and one where great memories will be formed.
Contact Us
A coastal walk with stunning views
There's so much beauty to see in Scotland, across vast areas, that often having a car is vital to getting the most out of your trip. However, for those wishing to do some walking, there are many things you can see that you would never get near if you were in a car. One of the most exciting new walks near Mackays is the John O'Groats to Inverness walk. This is 147 miles of coastal views exploring cliffs, shorelines and country paths. If you want to experience the real Scotland, this is the way!
Reviews...
On a 14-day NC500 trip staying in 10 different hotels, this one stood out food wise as the best, including over some more expensive accommodation. We had a DBB rate. Usually hotels only provide a table d'hote menu if dinner is included but McKays allowed us full range of the menu. Our dinner was perfect even without a glass of wine to go with our steaks due to covid regs in Scotland. The breakfast was also the best on our trip. Top marks to the kitchen staff. I gather the hotel is family run over a couple of generations and it shows. Friendly, attentive staff at reception and restaurant. Warm and welcoming.
See more >
Discover northern Scotland by foot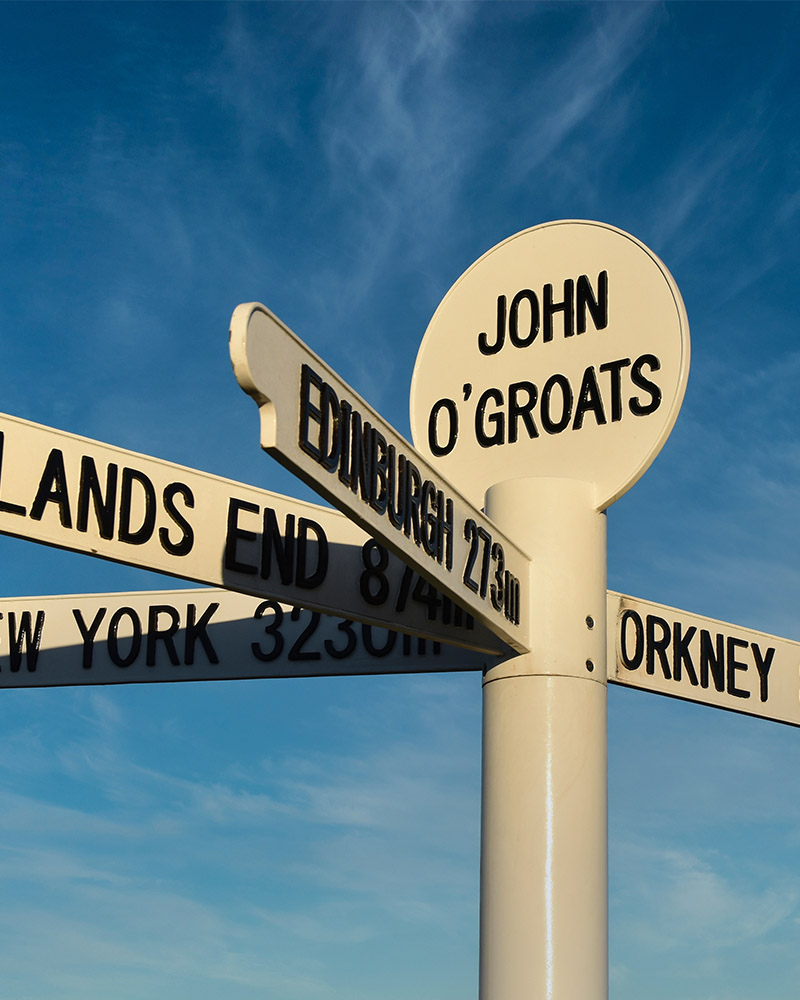 About the John O'Groats Trail
This walk is relatively new, which means some sections are still in development and some paths may be tricky to use at times. However, it's a walk worth taking. Of course, you don't have to walk the whole length of it, you can just walk specific sections. You can find those stages here.
There are two stages that may be of particular interest to those staying with us in Wick. The first is the Wick to Keiss stage. It is 12.5 miles and takes in Noss Head lighthouse and Sinclair Girnigoe Castle. You'll walk across beautiful sand dunes and a river too.
See The Whaligoe Steps
Feel the breeze on your face
The other stage is the Whaligoe to Wick stage which, of course, you reverse the instructions from the website if you started in Wick. It is 10.6 miles and takes in Sarclet Harbour which was an important fishing port in the 19th century, and is now a beautiful ruin. Follow the coast along until you reach the Whaligoe Steps. These are man-made stone steps on the side of a 250-foot cliff and are not for the faint-hearted!
These beautiful walks in Scotland have quickly garnered a reputation as one of the best walks in the Scottish Highlands. Through its dramatic landscape scenery and access to hidden gems of the Scottish countryside, this walk is one that will only ever get more and more popular.
Walking to Inverness
For those looking to walk the length of the trail, there are plenty of surprises to be found on the way. These include waterfalls, mills, farm houses and lochs. Wick is the closest town to John O'Groats, meaning we are well placed for those wishing to explore the northernmost edge of this walk. Don't forget to get your photo at the signpost here!
At the other end is Inverness – the capital of the Highlands. This is a beautiful city with plenty of culture and things to do. And it's just a short hop away from Loch Ness where you might even see Nessie (although we can't guarantee anything!).
Walking the whole trail usually takes between 9-14 days for most walkers. There are 14 stages in total, with accommodation at each one. This makes it a great way to spend a couple of weeks with friends, family or even on your own where you are sure to meet new people on the way.